F4 1S 5A AIO Brushless Flight Controller (ELRS 2.4G)
The classical ultralight F4 1S brushless FC comes back with SPI ExpressLRS 2.4G receiver.  

Note: The default flight controller firmware only supports ELRS V1.0. However, this flight controller can work with ELRS V2.0 by flashing the Betaflight V4.3.0 RC1-RC3 firmware. The target file name is BETAFPVF4SX1280.
https://github.com/betaflight/betaflight/releases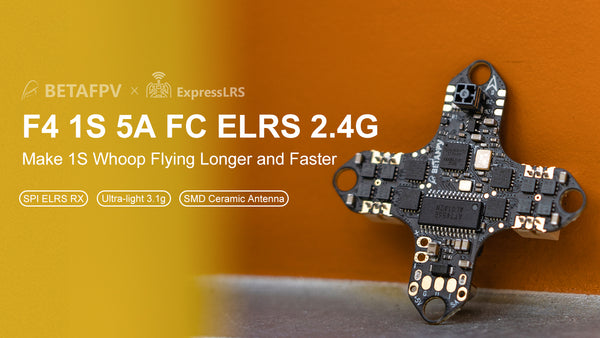 SPECIFICATIONS OF FC
CPU: STM32F411CEU6 ( 100MHZ )
Six-Axis: ICM-20689/MPU-6000
Built-in Receiver: SPI ExpressLRS 2.4G
Receiver antenna: 2.4GHz SMD ceramic antenna
Size: 29mm x 29mm, fully mounting pattern compatible with the whoop frame in the current market
Firmware version: betaflight_4.3.0_STM32F411_norevision
OSD: Built-in BetaFlight OSD

Recommend VTX: >=200mW, like

 

BETAFPV M03 350mW VTX

 

or TBS Unify VTX
Power Cable: 55mm, with BT2.0 connector
Weight: 3.13g (no power cable included)
SPECIFICATIONS OF ESC
Power supply: 1S
Current: 5A continuous and peak 6A (3 seconds)
Support BLHeliSuite programmable
Factory firmware: O_H_5_48_REV16_8.HEX
Signal Support: D-shot150, D-shot300, D-shot600, Oneshot125, Multishot, PWM
Something you should know to protect the ESC SMD ceramic antenna.
Recommend using

 

BETAFPV Camera Canopy, which reserves sufficient space between Camera and ESC. Therefore, the SMD ceramic antenna will be protected very well.
Please make sure there is enough space between the camera and the antenna. If the camera position is too low, it will damage the antenna. So the whole FC should be reversed 180 degrees for installation and all motor positions should be reversed too.
The antenna shouldn't be exposed. It will be fragile without canopy protection.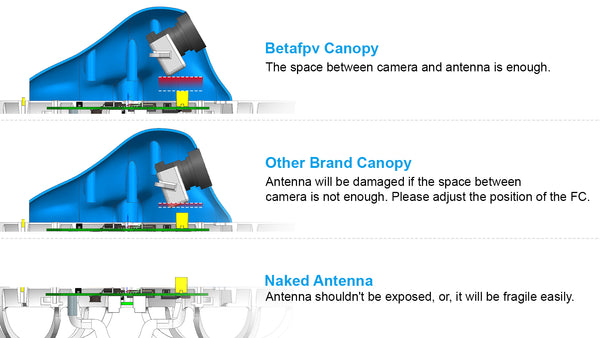 Betaflight Firmware and CLI
Since Betaflight has not yet released the official firmware that could support the SPI ExpressLRS protocol, the current version is the Beta version. Please use the firmware and the CLI dump file below to recover the FC board if needed. Betaflight will update its official target soon. Please feel free to contact us if you have any issues with this Beta version Firmware.
It is normal that there is no option on Betaflight Configurator Receiver. As is shown below, the checkbox is blank.

Please change the "PID loop frequency" to "4KHZ" , sometimes it would make the SPI receiver not working correct while the value is "8KHZ".

New released firmware BTFL_4.3.0_BETAFPVF4SX1280_0265565fa uses external GPIO interrupt triggers to process ELRS data reception, increasing the stability of the signal link. Now it can perfectly support LiteRadio 2 SE 500Hz link and modify the accuracy of signal strength. 
The new CLI file is named BTFL_cli_F4 5A ELRS_NEW. Please check.
Note: The new firmware supports only ELRS 1.0.0, 1.0.1, 1.1.0, 1.2.0, 1.2.1.
RECOMMENDED PARTS LIST
Battery: BT2.0 300mAh 1S Battery
Frame: 

 

Meteor65 frame / Meteor75 frame
Props:

 

31mm 4-Blades props

 

(for 65mm frame) / 40mm 4-blades props (for 75mm frame)
Motors: 0603 motors / 0703 motors /

 

0802 motors
VTX: M03 25-350mW VTX

 
DIAGRAM
Larger motor pad for convenience solder directly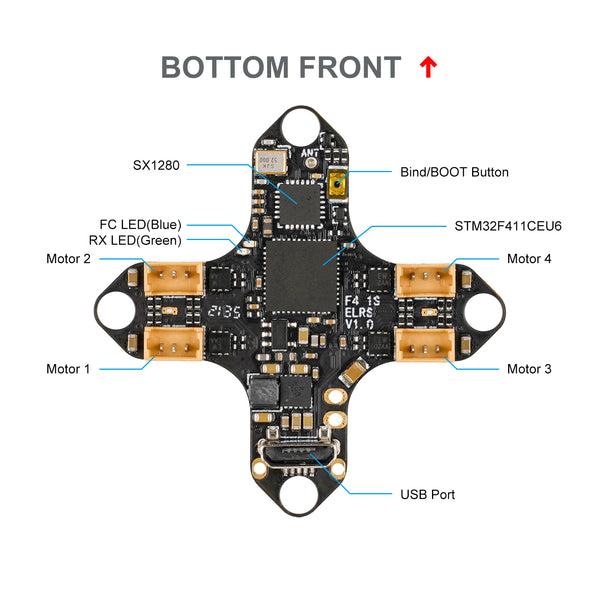 PACKAGE
1 * F4 1S brushless flight controller (BT2.0 Connector)
4 * M1.2x4mm screws
4 * M1.4x5mm screws
4 * Anti-vibration rubber dampers