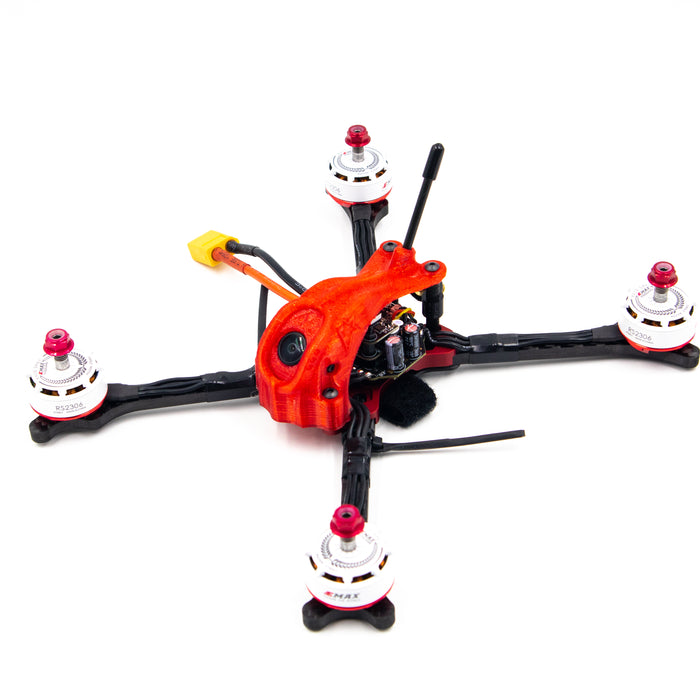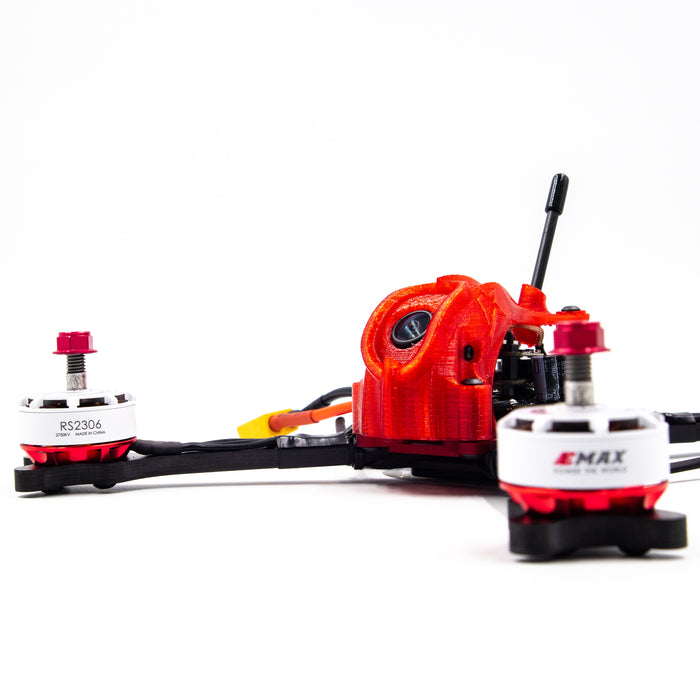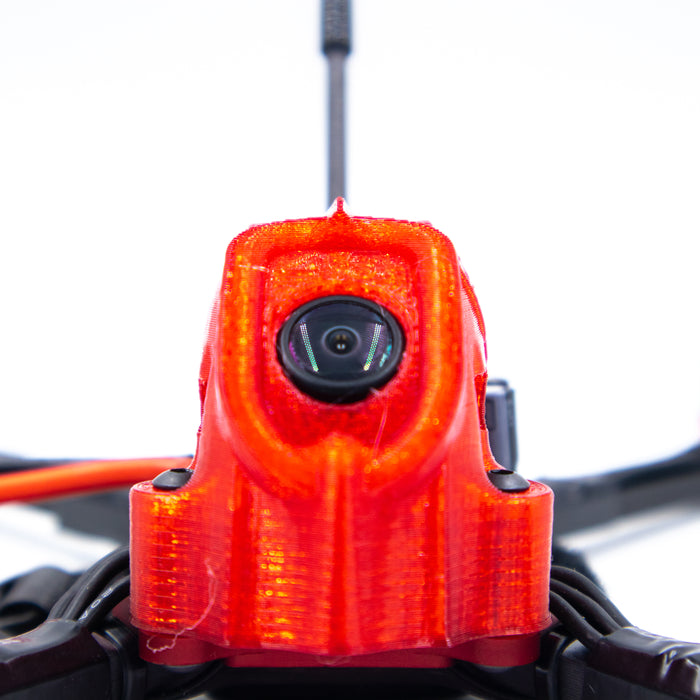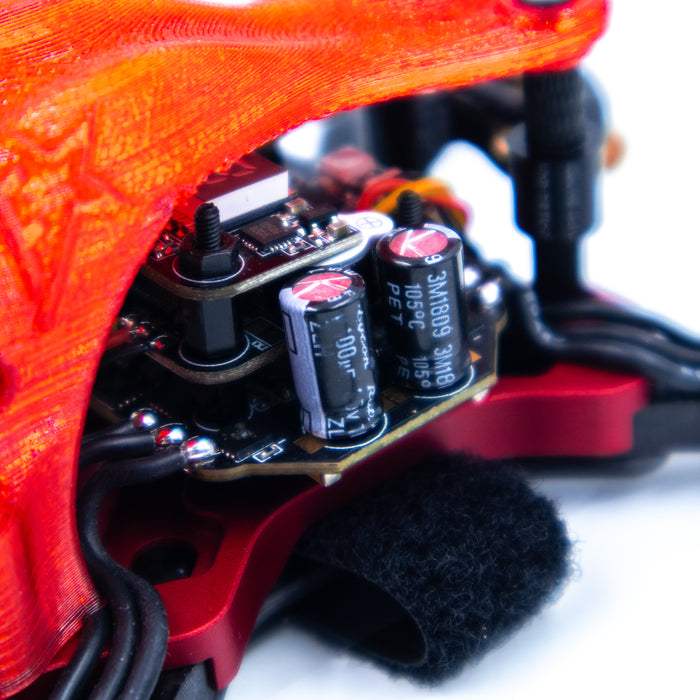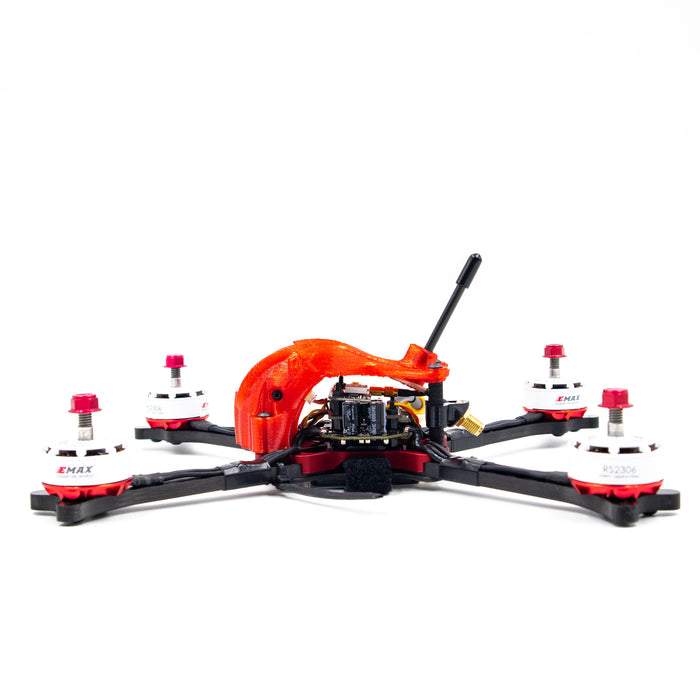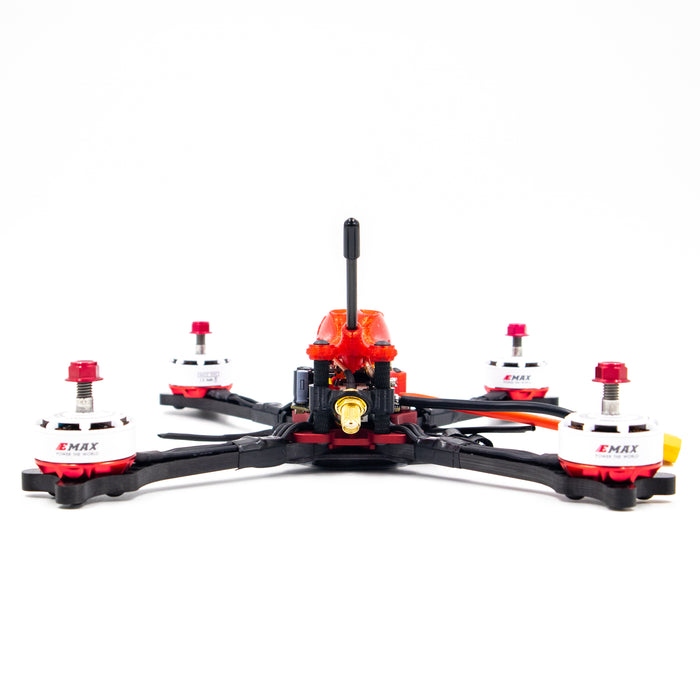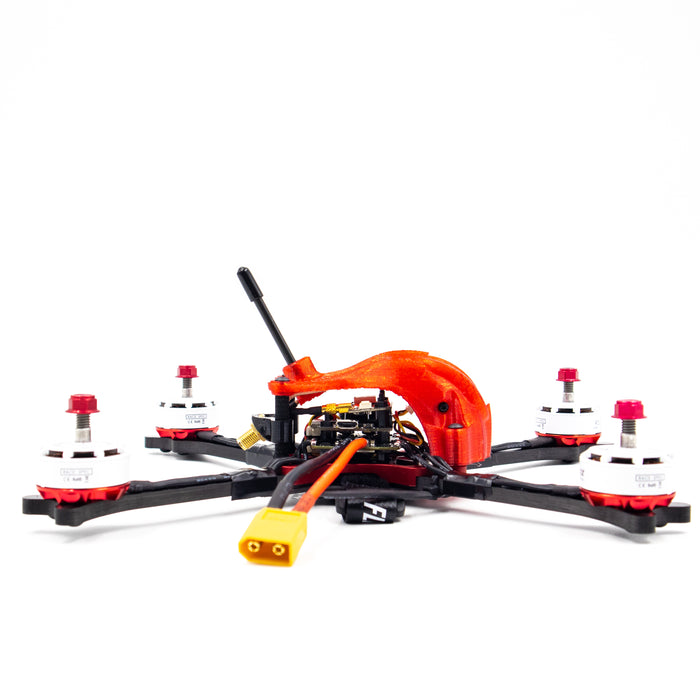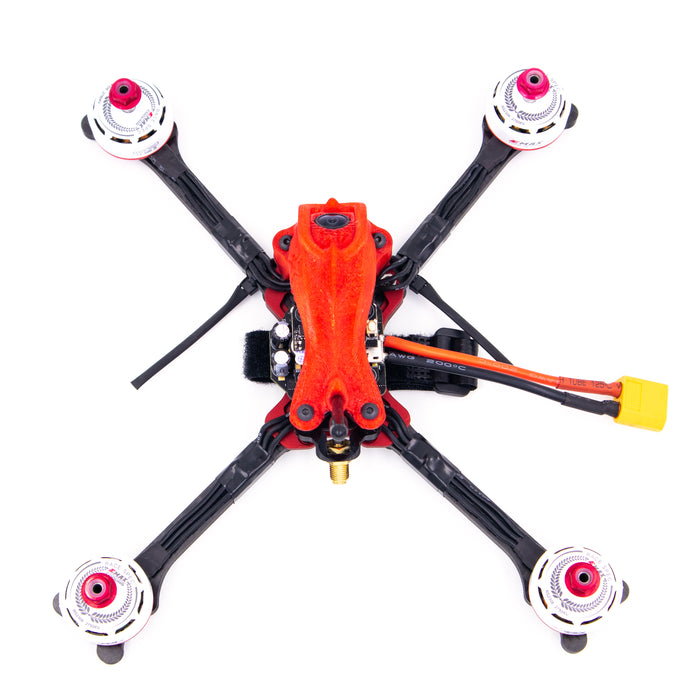 Neutron Racing Drone BNF (Frsky)
FlightClub Neutron-R 20×20 Race Frame and Canopy Pod
Description
FlightClub Neutron-R
What do you get when you combine the experience over the past 3 years of designing frames and feedback from some of the fastest pilots in the world?  You get the Neutron-R.
The Neutron-R is the evolution of an already great race frame, the original Neutron, into a frame that puts it in it's own class.  FPV racing is hard enough.  The last thing you need to think about is a frame with shortcomings.  The Neutron-R is a frame you can count on so you can focus on winning races.
Highlight Features
Designed for 20×20 components (see

 

PROton-R

 

for a 30×30 frame)
Nucleus Plate – CNC 7075 Milled aluminum plate
Threaded holes for arms, flight controller and front accessory (crossfire mount)
Hybrid geometry (front SX, rear X)
Channel slots in the aluminum plate for the arms
1 screw arm swap
Double accessory slots on the top plate for GoPro and Airbender turtle stick.
Dead X flight controller placement
Chamfered and countersunk holes on the bottom plate
5mm T700 carbon arms
Frame weight approximately 70g with 5mm 5″ Hybrid Skeleton
Nucleus Plate
The nucleus plate in the Neutron-R is milled out of a solid 4.5mm thick 7075 aluminum plate (Neutron uses 3mm).  Through cleaver design, the plate is strategically milled out in certain places to save weight.  But an extra beefy 4.5mm thick where strength matters such as in the arm channels.
The arm channels tolerances have been meticulously tweaked so the arms slide in with virtually zero movement at all.  Changing an arm only requires removing one screw.  This equals rock solid arms with no flex or wiggle.
There are a total of 12 threaded holes in the Nucleus plate (6 for the arms, 4 flight controller screws, 2 front accessory) to make building and maintenance a breeze.  No need to mess with press nuts or locknuts.
Instead of Butter Mounts, the flight controller is now 4 threaded M3 holes.  Virtually all 20×20 flight controllers now have built in soft mounting so the Butter Mounts are not needed.  Having threaded holes for the flight controller making building a breeze and there's no need for locknuts to secure the stack.
Contents
Base Neutron-R will include the following
1 – Nucleus CNC Aluminum Plate
1 – 2mm chamfered, countersunk bottom CF Plate
4 – 5mm Arms
4 – M3x20mm Button head screws (for flight controller stack)
6 – M3x10mm Flat Head Hex screws (arm screws)
4 – M3 Nylon nuts
4 –

 

Butter Mounts

 

(can be used as spacers)
1-

 

Ultralite TPU VTX SMA antenna mount
1 – FlightClub Velcro Strap
1 –

 

FlightClub Sticky Battery Pad
Stickers
TPU Printed Hybrid Pod
2 – M3x10mm standoffs
2 – M3x25mm standoffs
8 – M3x8mm button head hex screws
EMAX RS2306 Racing Series Brushless Motor Special Edition (White) (4pcs)
DESCRIPTION:
The RS2306 was designed to set a new standard of power and response for pilots seeking the ultimate in flight performance. With nearly twice the level of thrust of the original Red Bottom, the new RS2306 sets the bar even higher by pushing 2kg of thrust with 5045x3 propeller on 5S or 6045x3 on 4S.
Latest design language used in RS2205-S have been carried over to the RS2306. 
Lighter bell, hollowed steel shaft, bigger bearings, lower profile, and kept the overall diameter just 0.4mm wider than RS2205-S!

KEY FEATURES:
-2kg Thrust from a 2306 class motor!
-Larger Stator for smooth, responsive power.
-BEEFY 4mm Hardened and Tempered Hollow Steel Shaft: Breaking shafts are a thing of the past.
-0.15mm High Silicon-Steel Laminations: Higher volume of silicon increases electrical resistance in the lamination, reducing eddy-currents within the system (Translates electrical energy into mechanical energy more efficiently.). 
-High quality 4mm Inner Diamter Steel Ball Bearings.
-1.8mm N48SH Arc magnets (thinner and lighter which allow lower mass on the outer portion of the bell, resulting in faster acceleration. Less energy lost and more power delivered to the propeller).
-Special Edition Matte White Bell.
-Hex head bell fastener for easy servicing or bell replacement.
-PROPLOCK base for future performance-matched propellers: This anti-slip design locks in the propellers on to the motor to prevent Prop slippage during the hardest obstacle strikes.
-34 grams - Contrary to what most pilots say about motor weight Lighter is not always better. In this class of a motor that pushed 1,000s of grams of thrust, 34g is the absolute minimum without compromising structural integrity.
Voltage (V)
Propeller
Current (A)
Thrust (g)
Power (W)
Efficiency
Speed (RPM)
12
GF5050 Tri-blade
1
68
12
5.67
5740
11.1
435
133.2
3.27
14480
21.3
715
255.6
2.8
18630
31.2
961
374.4
2.57
21430
40.5
1170
486
2.41
23780
T5045 Tri-blade
1
66
12
5.5
6420
9.1
405
109.2
3.71
15630
17.1
660
205.2
3.22
19990
25.1
864
301.2
2.87
22450
34.2
1118
410.4
2.72
24730
HQ5045
1
56
12
4.67
6200
9.1
356
109.2
3.26
14840
19.1
645
229.2
2.81
19730
27.1
842
325.2
2.59
22450
36.3
1013
435.6
2.33
24750
16
GF5050 Tri-blade
1.1
94
17.6
5.34
6750
15.1
630
241.6
2.61
17260
29.2
1036
467.2
2.22
22230
43
1418
688
2.06
26030
57.2
1762
915.2
1.93
29080
T5045 Tri-blade
1
93
16
5.81
7130
13.1
607
209.6
2.9
18150
27.3
1074
436.8
2.46
24350
39
1422
624
2.28
27460
52.6
1728
841.6
2.05
30080
HQ5045
1.1
75
17.6
4.26
7210
13.1
548
209.6
2.61
18060
27.1
944
433.6
2.18
23450
41
1265
656
1.93
27000
53.9
1482
862.4
1.72

29180
Mini Magnum 2 - F4 BLHELI32 35amp 6S