About this product
Introducing... the new Orqa FPV.One PILOT Goggles! EVOLVED. DIGITAL. READY
The Orqa FPV.One PILOT Goggles are the most powerful FPV Goggles available! These future-proof goggles are architecturally sound and designed for upgrades with two module bays for expandability. These goggles feature a 1280x960 screen resolution, 56-74mm IDP range, and Micro HDMI Input option with best-in-class OLED displays. 
The new flagship headset by Orqa arrives with optimized and improved electronics and mechanical design while keeping its authentic look and feel. Orqa combines functionality with modern aesthetics by an artistically implemented visual and tactile construct into a sophistically engineered software and hardware system.
Features
Record your FPV footage in high definition directly from the goggles with built-in HD DVR and forget about lost frames
The Future-Proof architecture enables expandability and upgrades through two module bays
Enjoy edge-to-edge crisp images on the best-in-class OLED displays for FPV headsets
Ergonomic, lightweight, high-quality materials
Designed for Pilots by Pilots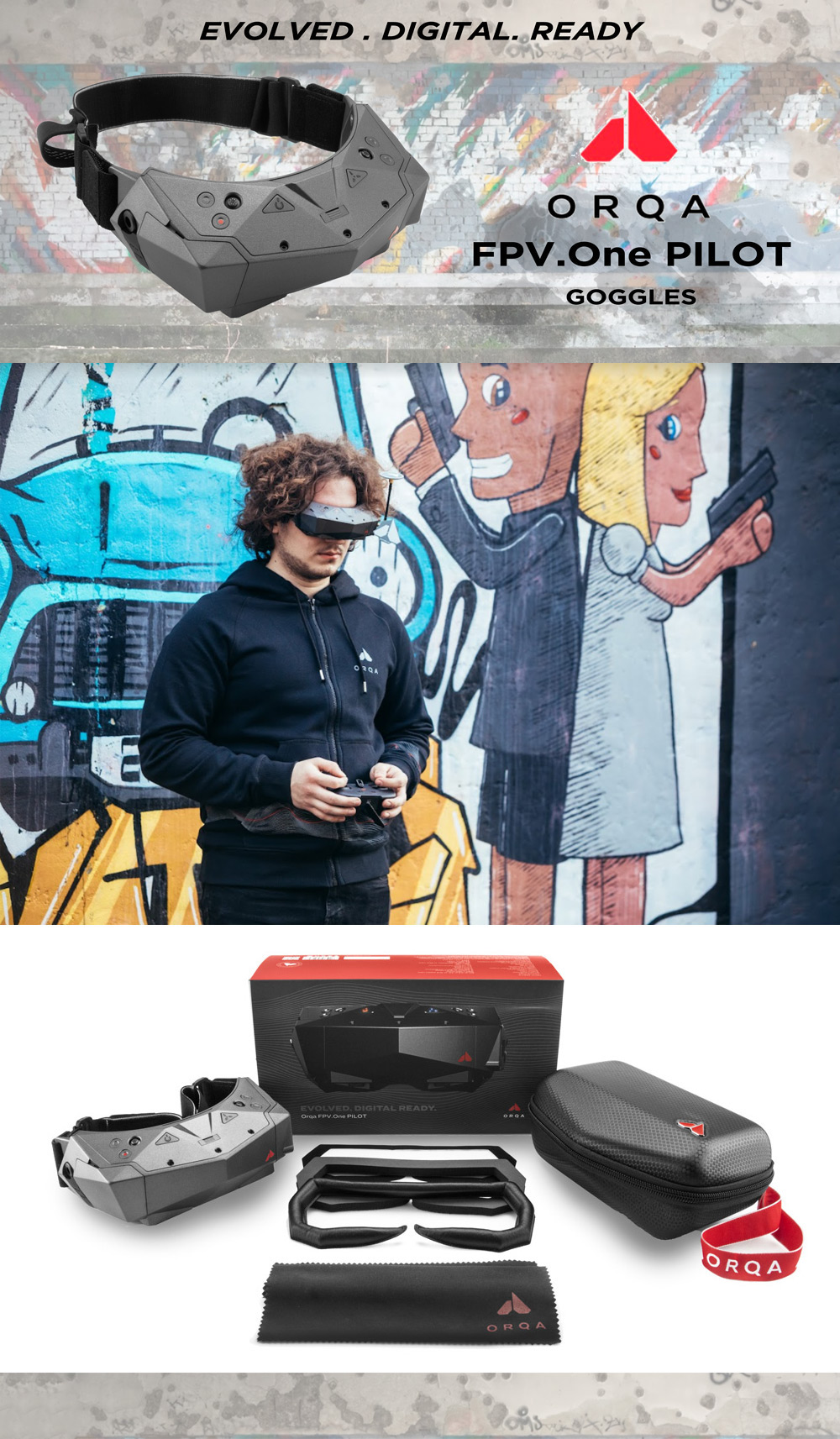 SILENT, BUT COOLER THAN EVER
FPV.One Pilot has undergone complete mechanical and electronic redesign resulting in the removal of both top fans present on the original FPV.One. Each optical engine got its dedicated fan with an out-of-the-box method for optional automatic defogging when necessary. No more foggy lenses or unpleasant breeze (dry eyes)!

SONY OLEDS NEVER LOOKED SO GOOD...ARE THESE DIGITAL?
Redesigned optical engines make the image sharper than ever. All possible aberrations, ghosting and pin cushioning are addressed with improved design of glass lenses, and a special coating is now applied to lenses. Moreover, the FPV.One Pilot comes with a new mechanism for focus adjustment in addition to the original IPD adjuster. Adapt visual experience to your eyes, not the other way around.

FORGET THE SMELL OF BURNING SCREENS AND ELECTRONICS
FPV.One Pilot comes with overvoltage and reverse polarity protection, and now takes up to 6S batteries!
CUSTOM CONNECTOR FOR FUTURE EXPANSIONS
The "Portal" on top of the goggles is the interface for the upcoming Orqa HD Digital system. It can also be used as a wired video output for other expansions like cameras, special antennas, etc.
COMPLETELY NEW MENU / OSD
Cleaner, faster, and more intuitive. Various integrations with 3rd parties and brand new features to be released throughout 2022… in a typical Orqa fashion.
MINOR 'ORQA STYLE' CHANGES
Embedded computing power in your goggles. The most powerful set of FPV goggles available. Its open architecture enables expandability and upgrades through two module bays.
Support for standard analog and digital video inputs. Choose whether your standard analog VRx or go digital using a micro HDMI video port and the Orqa portal.
HD image quality from 2x 0.5" Sony OLEDs. Enjoy edge-to-edge crisp images on the best-in-class OLED displays for FPV headset. Biggest pixel count in the industry.
Adjust your FOV and switch aspect ratio. Drone racing or freestyle? Switch the Field of View between 37° and 33° with a simple click of a button and set the image to your flying preference.
Record your flight in real-time with 1280x960 at 60fps. Record your FPV footage in high definition directly from the goggles with built-in HD DVR and forget about lost frames.
FPV headset Designed and Manufactured in Europe. Every unit is hand-assembled and QC'd by our team of engineers and technicians. Orqa is proudly designed and made in Croatia, Europe.
FPV.Connect
Connect the mobile app to your goggles and download flight videos, update headset firmware, and much more…
Specifications
Secondary Bay for Additional Modules: 5V, SDIO, UART
Viewing Angle: 37° at 4:3 or 33° at 16:9 Aspect Ratio
Integrated DVR: 1280x960, 50/60fps, H.264, MP4
Battery Connector: 2.1x5.5mm Barrel Connector
Integrated Head Tracker Output: 3.5mm Jack
Power Supply: 6-26VDC (2-6S Li-ion Battery)
Aspect Ratio: 4:3 (Native) or 16:9 (720p)
Standard Reciever Bay: 5V, High Power
HDMI Video Output: Micro HDMI
Weight: 256g (Without Battery)
Dimensions: 177x107x72 mm
Screen Resolution: 1280x960
Power Consumption: 2.8W
Focus Adjust: -4D - +4D
IPD Range: 56-74mm


Includes
1x Orqa FPV.One PILOT FPV Goggles
1x Foam Padding Set (2 Pads, 1 Adhesive Velcro)
1x Orqa Goggles Case
1x Orqa Goggles Strap