Ready to Fly Ascent X 2.5″
Ascent X 2.5″ drone with LiteRadio 2 Radio Transmitter and an optional FPV headset. 

FlexRC Ascent X 2.5″ is an ultra light (only around 14g) and durable FPV racing drone frame with rolling cage for up to 2.5"propellers and Micro FPV Camera with 19mm mounting.
FlexRC Ascent X features X layout for extremely stable flight characteristics and good carbon fibers alignment for advanced durability. It is compact, very easy to build, offers great protection for drone's electronics and easy access to all the components for simple repair-ability

EMAX RS1106 Micro Brushless Motor
Legendary RS power for micro FPV racing quadcopters
The RS1106 has 6mm tall stator to provide the instantaneous torque that is usually lacking in high KV 1104 motors. The RS1106 is also one of the only micro brushless motors with active cooling fins integrated into the bell to keep magnets cooler so the power is consistent lap after lap.
For micro builds it's important to have as little mechanical vibration to get the best performance from your flight controller. To ensure smoothness each motor is precision CNC, uses premium ball bearings and comes factory balanced.
 The bell housing has two sizes of hole spacing to fit the EMAX 2345 Tri-Blade and M2 x 5mm that works with a wide range of other 2" class propellers. Two lengths  of mounting screws are included for so it will fit a wide range of frame styles. 
RS1106 6000KV is a versatile upgrade motor for 2s-3s and well suited for those wishing to spin heavier 4 blade or 5 blade propellers.

Caddx Turbo EOS 2


This mini camera provides some incredible specs for 1200TVL resolution and WDR worldwide. EOS2 is equipped with 1/3 CMOS sensor and 2.1mm lens with a 16:9 projection ratio.

This camera is well suited to micro-structures that requires maximum weight and space Reduction without compromising quality.

Lumenier SM-25 25mW Micro VTX


This is the Lumenier SM-25, a Super Mini 25mW 5.8GHz 32CH FPV Transmitter. The lower 25mW transmission power means more pilots can fly together without overpowering each other on close frequencies. The SM-25 has 32 channels including the new Raceband frequencies. 
The SM-25 features an easy to use single button, LED interface. It is micro in size and only weighs 2.1g! It stays cool to the touch during operation, so you don't have to worry about it overheating in a crash.
Anniversary Special Edition Eachine Minicube Flytower


Frequency range: 2.403-2.479Ghz
Channels: 8CH 
Work mode :D8 Mode
Output: SBUS
Antenna length: 100mm
No ground interference ( Transmitting and receiving 1 m from the ground): >500m
Built-in Buzzer (Low voltage alarm) Configure by Betaflight configurator
Working current: 80mA
Dimensions: 27*27*7mm
Weight: 3.5g
Compatible with FRSKY ACCST 
Compatible with X9D(Plus)DJT/DFT/DHT
Telemetry: RSSI, 1S-3S voltage (A1), 1S-3S voltage (A2)
Eachine Minicube 10A BLHeli_S 4 In 1 ESC:
Size: 27mm*27mm*5mm
Mount hole: 20mm*20mm
Firmware version: BLHELI_S 16.5
BB2, 48MHZ Chip
Lipo Battery: 2-3S
Con. Current: 10A
Peak Current: 15A (10S)
BEC: 5V @0.1A
Programming: YES
Betaflight passtrough ready
Dshot600 ready(Default)
Support oneshot42 oneshot125 Multishot Dshot
Damped light on
Features:
STM32 F303MCU + BLHELI_S ESC make your Operating feel more stability and silky
Jaw-dropping flight performance
LED_STRIP solder pin
BUZZER Ready
Betaflight support
Acro mode / Air mode /Angle mode support 
Built-in OSD(Using F3 MCU controls OSD over SPI bus in DMA mode)
OSD Configuration has been include in BETAFLIGHT GUI
Radio Stick to control PID Tunes
Mode 2(left stick throttle).     

LiteRadio 2
After the latest round of beta test, LiteRadio 2 is back to the market with the huge improvements based on the original version.
Supports Frsky protocol, easily change Frsky D8, Frsky D16 FCC and Frsky D16 LBT mode (The default version is Frsky D16 FCC)

Built-in charging module, support USB charging 

Adopted the rubber coat and add weight, 

makes

 

it 

more

 

ergonomic

Add v

ibration motor, provide a vibrating prompt

Redesign the power button, make it crystal clear and better for the LED indication
LiteRadio 2 Radio Transmitter User Manual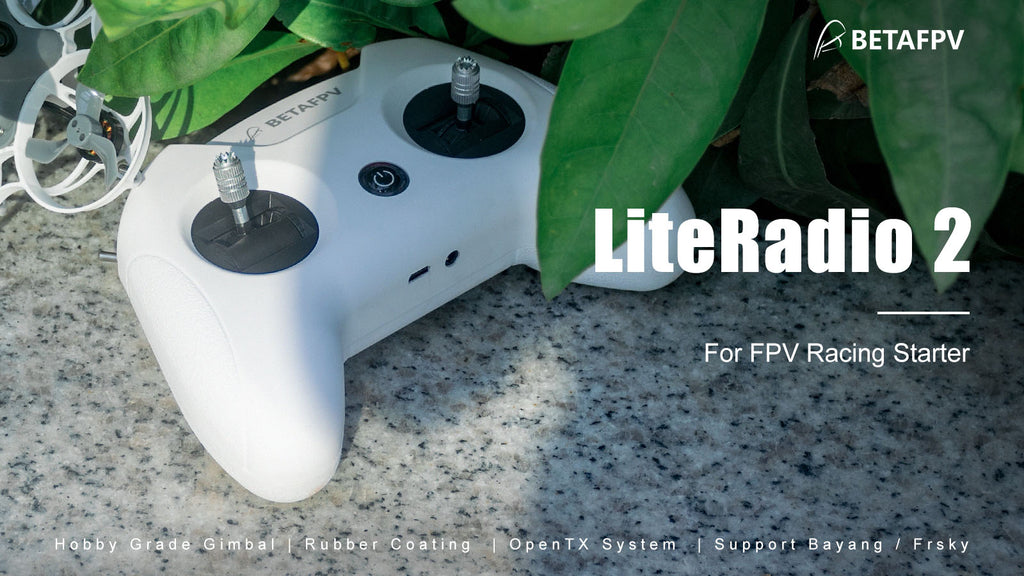 Bullet Point
Designed for FPV racing starters, and supports Bayang protocol and Frsky protocol (D16/ D8)
LiteRadio 2 is powered by OpenTX firmware. Totally 8 channels and has a hobby grade gimbal. 
This radio tansmitter acts as a USB Joystick when connected to a personal computer. So you could use it to play FPV simulator like EREADRONE
The trainer function is available for this LiteRadio 2 transmitter. It is useful for FPV racing student in training
LiteRadio 2 transmitter runs the OpenTX 2.2.4 firmware. OpenTX comes with a computer-based graphical user interface, OpenTX Companion. Pilots could use OpenTX Companion is trim the gimbal central value
With the hobby grade gimbal and adopted the rubber coat, 

makes

 

it 

more

 

ergonomic
Specification
Item: LiteRadio 2
Frequency Range:

 

2.4G (

2403MHz-2447MHz)

2.4G System: 

NRF24L01 or CC2500

Channel: 8
System: Bayang Protocol / Frsky 

Protocol 

Power: ≤80mw

Model Type: Multi-rotor

Support USB Charging

Support FPV Simulator Connected

Output: PPM, s

upport Student Radio Mode
LED Light: Green-Power On / Red-Warning / Blue-Normal
Battery: 350mAh 2S Battery
Weight: 227.4g (with battery)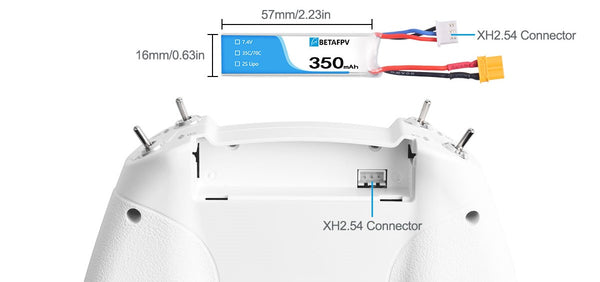 How to change the protocol (D16/D8 Version)
Press and hold the bind button, then press the power button until the purple light is flashing. The flashing LED indicates different protocol the LiteRadio works on.
LED Status
Protocol Version
Flash Once
Frsky D16 FCC
Flash Twice 

Frsky D16 

LBT
Flash Three Times 

Frsky 

D8
Diagram of LiteRadio 2
LiteRadio 2 Guide
Manual for LiteRadio 2 Radio Transmitter
LiteRadio Configuration - OpenTX Companion
Package

1 * LiteRadio 2 Radio Transmitter

1 * 350mAh 2S

 Battery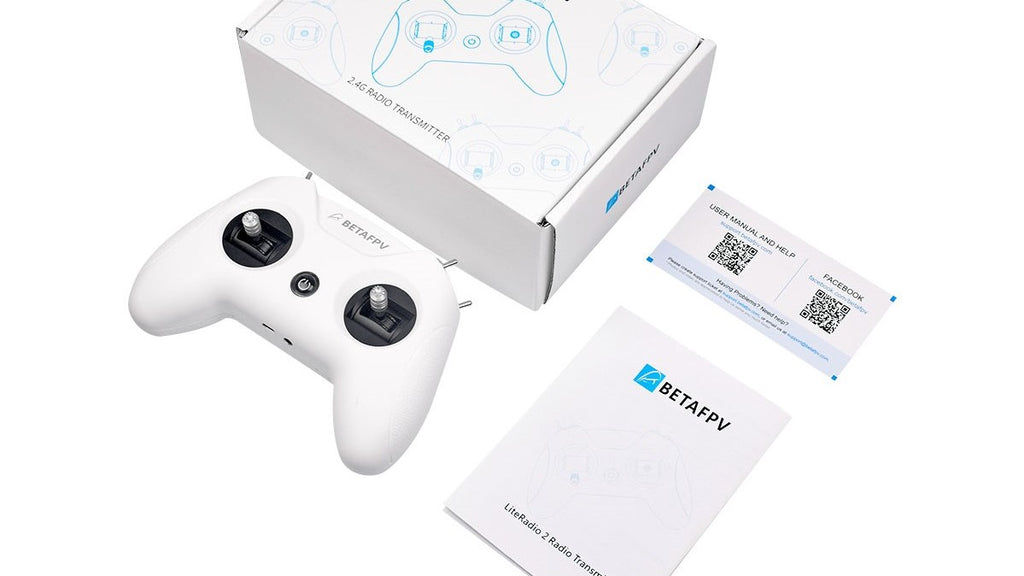 BETAFPV VR01 FPV Goggles
BETAFPV VR01 FPV Goggles - a First-Person-View Goggle with 4.3 inch 800*480px HD high brightness LCD which will allow you to experience a bright world without warped and blurred images. Adopt ergonomic design with a foam sponge faceplate and a three-sided adjustable headband, comfortable like as cotton and suitable for all age ranges.
Bullet Point
BETAFPV VR01 FPV Goggles is 

with 

4.3 inch 800*480px HD high brightness LCD, which is 

specially tuned for FPV racing or Model airplane. 

Adopt ergonomic design with a foam sponge faceplate and a three-sided adjustable headband, this FPV Goggles fits your face and head perfectly.

Buit-in super sensitiveness 5.8GHz 40ch receiver,especially with RaceBand.

Come with advanced auto-searching function and show yout the working frequency on screen.
92% transparent lens adopted ,no distort,no blur on the adage of screen.
Light weight 375g with 2hr 2000mAh battery, RTF for any scale, racing, Model airplane game.
Specification
BODY

Dimension: 155x144x113mm

Weight: 375g with 2hr 2000mAh battery

Belt: three-Ways adjustable belt
SCREEN

screen size: 4.3 inch

Screen resolution: 

800*480 

(No blur after enlarge by the lens)

Screen brightness: 300cd/m2 with special high brightness backlight LED for outdoor FPV

View Angle: 12 O'CLOCK
LENS

2.8x boost of the video to acquire intense feel-in-there video

92% transparent rate no distort of light
JACK

Input CVBS

Headphone sound output

TF

 Card(

C10

)

 Max32G

USB DC5V IN,

 

the device operating current of 550mA@5V,built-in battery maximum charge current of 750mA@5V; if the device is working when charging, please pay attention to selecting the rated current greater than 2A/5V charging equipment
BATTERY

Built-in 3.7V/2000mAh high-capacity polymer battery, when the battery is charging, the device the red LED will light when charging is completed, here are bright green LED

Each full charge revive is around 2 hours working time
Band and Channel Selection
Operation Instructions
KEY
Default mode, Short press for automatically search signals to a certain signal strength and stops on that channel; Long press switch RF MOD and Long press for AV MOD; In Play mode, pressed jump volume adjust OSD.
Default mode, Short press for MENU OSD; Long press 3S for Power OFF/ON; MENU pressed, this button is use as the Return.
Default mode, Short press for recording /STOP; Long press for Play mode; MENU pressed, this button is use as the confirmed.<
Default mode, Short press for Band+ option A,B,D,E,F,R cycle selection; Long press for Volume control -; MENU pressed, this button is use as the UP.
Default mode, Short press for CH 1~8 cycles; Long press for Volume control +, MENU pressed, this button is use as the DOWN.
PLAYBACK
Call MENU and select Playback (Short Press K1 button to call menu, and use K3 button to select Playback mode; Or long pressed K3 )
Review/Replay in Playback mode (Playing Short K1 jump volume adjust OSD)
Buttons have different function in playback mode
Record file: AVI, 800*480px progressive
Support up to 32G TF card (C10 recommend)
K2: Playback menu (volume control/file delete/protect)
K4: UP/ fast backward<<
K5: DOWM/ fast backward>>
K3: Select/Play/ Pause
K1: Quit Playback mode
NOTE: If the device is not used for a long time, please charged once every four months, inorder to protect the battery.
Package
1 * BETAFPV VR01 FPV Goggles
1 * USB C

harging Cable

2 *

 

Dipole 5.8G Antennas

 

 
1 * Adjustable Headband