Shendrones Squirt 2.1 Cinewhoop with variable angle GoPro mount
Squirt is a 160mm 3" ducted quad. The ducts generate about 240g more thrust so Squirt is a peppy flyer that can carry a Hero. They also double as prop guards so it's safer to fly in close proximity to people.
4 in 1 esc, 1407-1507 3200-3600kv motors recommended. 36x36 or 20x20 stack.
The fpv cam mount holds a micro cam.

Carbon only version comes without any of the 3D printed parts.
Gemfan Ducted 75mm Tri-Blade 3" Prop 4 Pack
Gemfans answer to the HQProp Duct 3, the Ducted 75 is another option for the cinewhoopers out there. A great choice for your ShenDrones Squirt! 
Specifications
Type: 75mm Ducted Propeller
Blades: 3
Pitch: 3.4"
Material: Polycarbonate
Shaft Diameter: 5mm
Prop Disk Diameter: 75mm
Center Thickness: 7mm
Max Prop Width: 15.3mm
Recommended Motor: 1408-3600Kv
Weight: 1.9g
Includes
4x Gemfan Ducted 75mm Tri-Blade 3" Prop (2 CW, 2 CCW) 
FlightOne Spark32 V2
The FlightOne Spark32 4n1 electronic speed controller (ESC) provides the power of BlHeli_32 performance in a tiny package. This makes your electronic stack small, and eliminates the need for an additional PDB. The Spark32 4n1 ESC performs great, helps clean up any build, and is perfect for your 5″ light weight builds for maximum power.
Specifications
weight: 7.1 grams
20 mm x 20 mm mounting hole spacing
50 Amps per channel
BlHeli32
D-Shot ready
3s – 6s compatible
Connects directly to the MillivoltOSD
Voltage sent to flight controller and mah consumption
Easy Install
High quality components
CL Racing F4 - Mini Flight Controller
Enjoy the full size CL Racing FC lineup?  Want to take a similar product into the world of brushless micros?  Look no further than this 20x20mm option!  It's got everything you expect, including:
Built in Betaflight OSD
STM32F405 @168mhz 
Direct 2-6S input
MPU6000 gyro
Filtered 5V and 9V BEC's 
Direct stack on Frsky xm+ rx 
4 in 1 ESC socket and direct solder on 4 in 1 ESC pads.
Build in Camera control resistor and capacitor
Current sensor input solder pad
Inverter for Sbus (on UART1),
TX4(uart4) near VTX pads for easy smart audio or tramp wiring
4 UARTS ---- TX6(uart6) SAT(uart6 RX ), RX4 ( uart4 ), RX3 TX3( UART3 )
Direct solder 4 in 1 esc cable easy to adapt to all ESC
AKK FX4(20*20/Built in OSD)
AKK FX4 5.8GHz 40CH 25/200/500mW Switchable Transmitter come with built in OSD(only support NTSC system camera)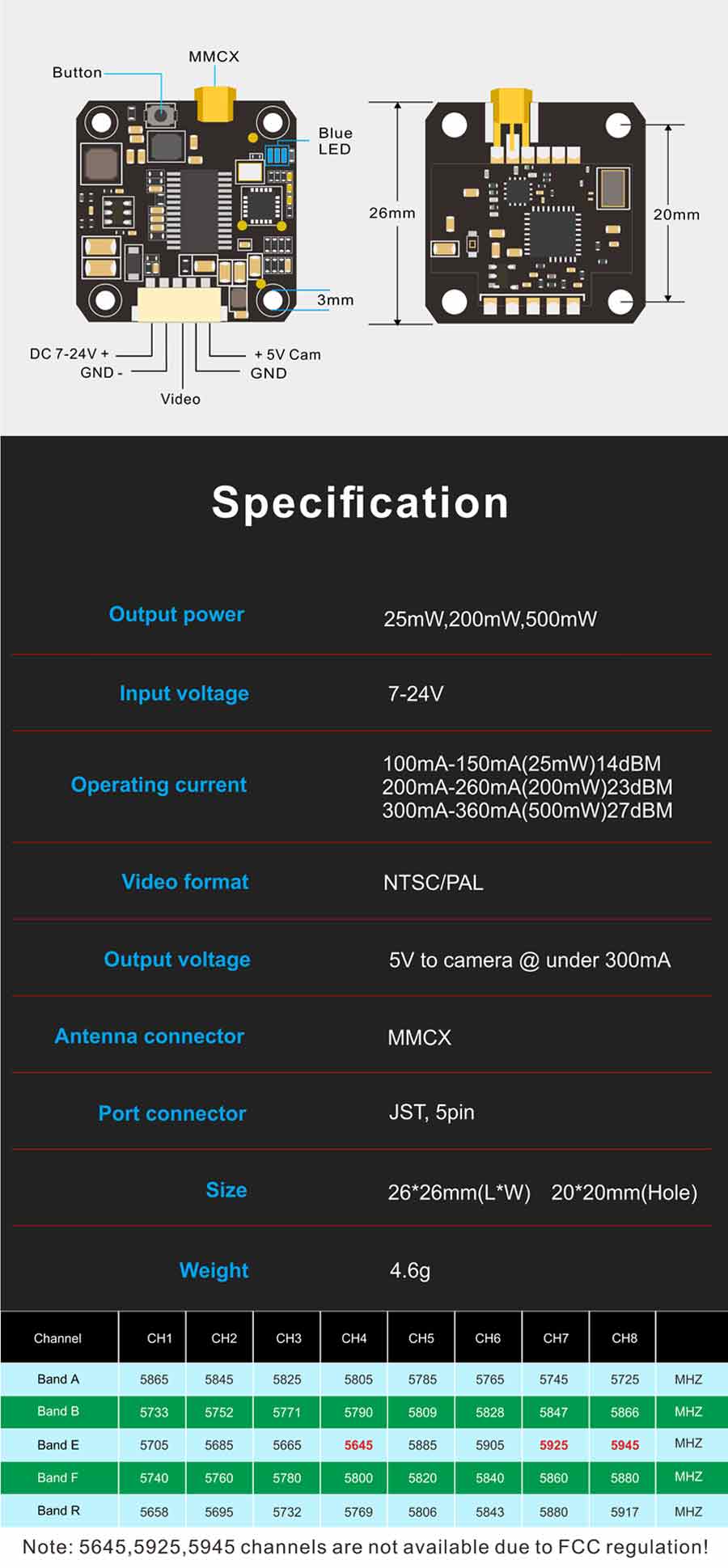 MMCX TO SMA PIGTAIL
MMCX to SMA Female Adapter
8.5cm length
foxeer predator v3 micro
Lumenier RX1407 3200Kv Motor
Lumenier brushless multirotor motors were designed to give you top of the line performance and value for your RC models. This Lumenier RX1407 3200Kv motor has been engineered from the ground up, and it is the perfect blend of elegant design and high end performance. By using high quality bearings and CNC precision machined parts, each Lumenier motor provides silky smooth, reliable power.
This micro sized, high Kv motor is designed for small aircraft running 3" to 4" propellers.
The Lumenier RX1407 3200Kv motors have a strong 2mm internal shaft which has been machine pressed into the upper bell of the motor. No longer is there a need for micro sized set screws that loosen over time. The motor features an integrated 5mm threaded prop adapter allowing you to directly mount the propeller to the motor without the need of a separate prop adapter, saving you weight. An ultra-lightweight, black anodized, low profile, flanged aluminum lock nut is also included with each motor ensuring your propellers do not come loose during flight. Each motor comes with 4x M2x5 screws for mounting on most airframes. The motor wire length is 100mm, precut and tinned to make for easy installation on most micro builds where space is tight.
Includes
1x Lumenier RX1407 3800Kv Motor
1x Lumenier M5 Black Aluminum Low Profile Lock Nut (CW)
4x M2x5 Button head screws